2021-03-17
An automatic customized

PET Preform Production

L

ine

is the key to save cycle time, energy, labor and leads to high quality, cost-effective result for

5 Gallon Bottle Making

.
For the decades, PET Gallon-size (10L/15L/20L/5 gallon) water bottle is an advanced replacement from PC/Glass water bottle, which is more strong, less weight, BPA free, DEHP free, 100% ecofriendly, support to circular economy.
Innovative Turnkey Solution
Customized Gallon Bottle PET Preform Production Line : KPET 3200
●8+8 Cavity Mold
●Production: 7200 pcs / day (700g preform)
●Power consumption: 0.145 Unit/pcs
●Cycle time: 90 sec /8 pcs
Vertical Clamping +W Line Injection (PATENTED DESIGN)
One extruder screw works with two injection plungers, the PET resin plasticizing, charging never stops by injection/holding process, compared to In-line screw, the drive motor capacity is only

40%

but output per hour is the same.

Double shuttle core mold, with Post Mold Cooling system: Double core molds work with one cavity half, save

80%

holding/cooling time while molding. Efficient post mold cooling by core mold, preforms keep cooled for one more cycle, ensure the quality and straightness.
Individual setting of injection, with A/ B core molds, can produce two different preform (inner dia, and neck design) at the same time.

With Vertical Clamping design and upward mold flow, the melt material injected from the bottom upward, create balance mold flow and even air vent, preform stress low, no welding line/ bubble.


Customized Gallon Bottle PET Preform Production Line : KPET 1600 (4 cavity)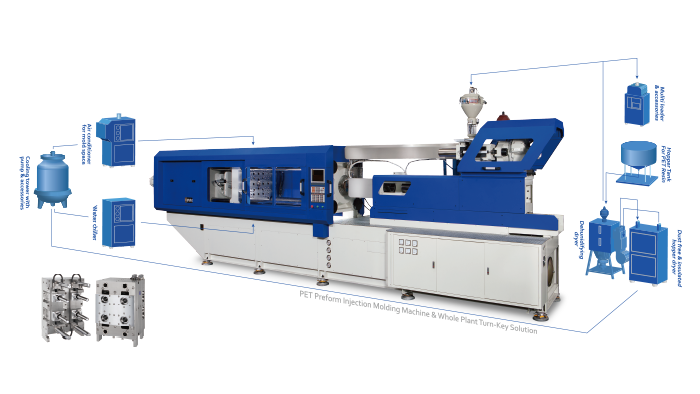 ●4 Cavity Mold
●Production: 2400 pcs / day (700g preform)
●Power consumption: 0.61 Unit/pcs
●Cycle time: 120 sec /4 pcs
●Horizontal Clamping +V- Line Injection


Power Consumption Comparison
Following is the comparison of the power consumption in between the traditional injection molding machine and King's customized

5 Gallon Preform Production Turn Key Solution

. The saving of energy consumption is more than

89% less

comparing to single cavity molding machine, only

0.145 kwh

/pc.
Worldwide Sales
Almost 4 decades, we are the expert in Customized PET Preform Production Line, PET Preform Injection Molding Machine, Mold, Materials, and Management, we promise to implant production technology into the customer's factory. In response to industry 4.0, KING'S will go across and focus on Big Data capabilities to develop production analytics data open to customers in the near future to form the unmanned factory.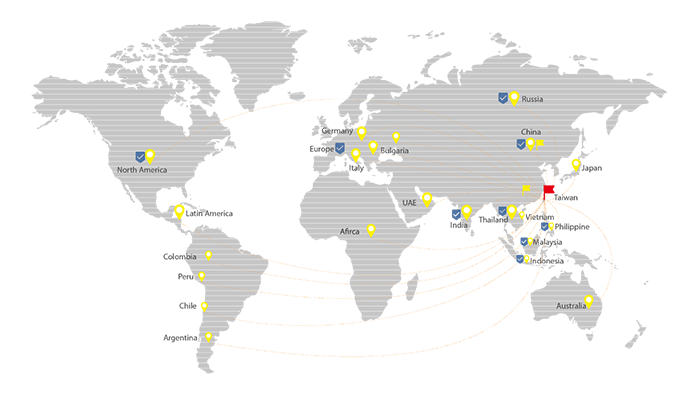 ●Asia: Indonesia / Myanmar / Philippines / Vietnam / Sri Lanka/ Taiwan
●North America: Canada/ USA
●Latin America: Mexico/ Brazil / Ecuador / Dominica / Peru
●Africa: Angola / Ethiopia
●Middle-East: Saudi Arabia/ UAE / Oman
●Australia

Choose King's Solution for PET Preform Injection Molding Machines. Feel free to contact us today for more information.

Since 1983, KING'S Solution Corp is dedicated to developing PET preform. We've accumulated over 38 years of experience to provide customer with 10L/15L/20L (5 gallon) PET preform Turn-Key solution. From raw material to finished product, we KING'S can offer cost-effective, high productivity, superior quality and low defective rate solution to our customers. The blowing defective rate is only 0.5%, and the power consumption is only 50% from others.


For more information,
Pls contact with King's Solution Corp.
Contact Info:
◎No.457, Nanshang Rd., Guishan Dist, Taoyuan City 33392, Taiwan
◎Tel:+886-3-3218768
◎Fax:+886-3-3218769

Pls Click Here To Send Email↓
[email protected]


【Follow US !】
Official website:
http://bit.ly/kings-yt-index
FACEBOOK:
http://bit.ly/kings-yt-fb