2021-08-26
What is a Low Pressure Molding System?
Low Pressure Molding System is a new way to overmold electronics
faster
,
safer
and
greener
! It is a reliable solution for overmolding PCB or circuitry. Its process takes just 15 to 60 seconds and the materials used are environment friendly. The Low Pressure Molding Machine parameters are easily set and operated. For these reasons, the Low Pressure Injection Molding System is increasingly being chosen as an alternative to encapsulation processes.
How Does Low Pressure Molding System Work ?
Low Pressure Molding Process System (LPM) involves loading unprotected PCBs and cable assemblies or other fragile electronic parts into a precision mold , and then filling the cavity with appropriate low pressure molding material, such as polyamide and polyolefin (hot-melt). The resin and material effectively covers the component in the desired shape, producing a sealed and protected product that can be immediately handled and tested.
Process of Low Pressure Injection Molding System - only 3 Steps
Below is the sequence of images illustrating a typical 3-Step encapsulation using a low pressure molding system.
Step 1 : Insert
Insert the electronic parts into the cavity ( 5-10 seconds loading time).
Step 2 : Overmolding
Overmolding by LPM Low Pressure Molding Machine , cycle time about 15-60 seconds.
Step 3 : Take out
The overmolded part is easily cooled and taken out manually, tested immediately after molding.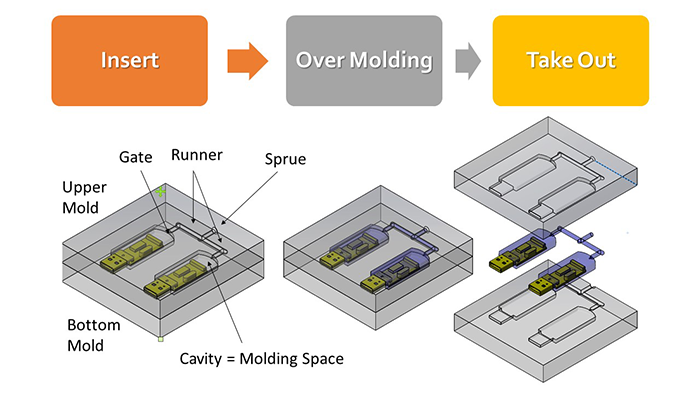 Low Pressure Injection Molding Process Video
Low Pressure Injection Molding System VS Potting and Sealing : What's the Difference ?
The
Low Pressure Injection Molding
(LPM)
Process
is ideally suited to replace epoxy potting processes to save cycle time, labor cost, working space, and reduce material consumption with light weight and compact design, compared to the traditional potting process. We can compare LPM and Epoxy potting from following:
● Environment Benefits
The materials of Low Pressure Molding (LPM) are natural adhesives, which are BPA free, do not require UV curing ( which may cause skin cancer), and 100% recyclable, which also create an efficient & comfortable working experience for the operators.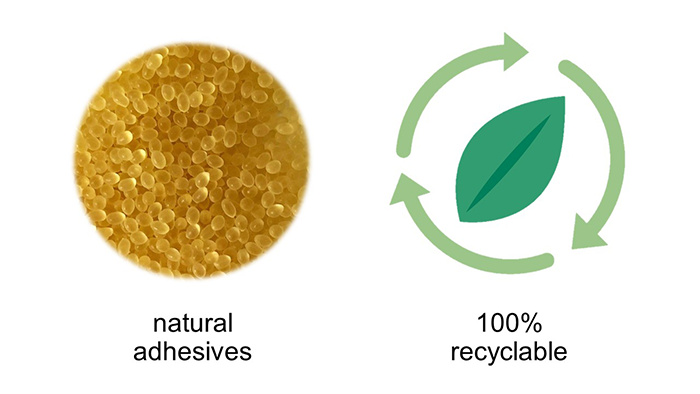 ● Economy Benefits
Low Pressure Molding (LPM) process save labor cost , space for storage , material consumption , and total cycle time is only less than 1/10 compare to Epoxy potting process.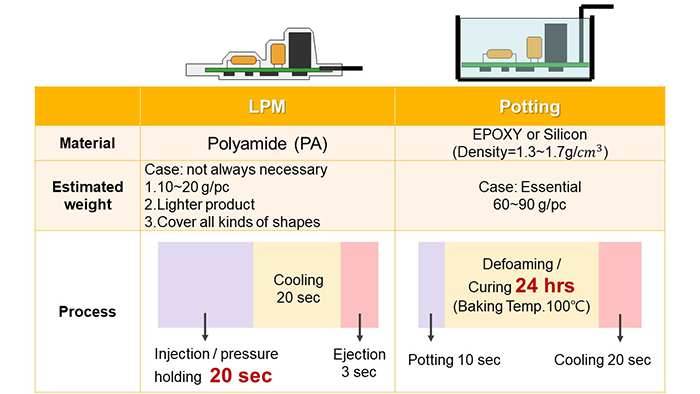 ● Performance Benefits
Low Pressure Molding System (LPM) with easier process to achieve waterproof, insulation, temperature resistance, flame retardant, vibration reduction ,and better bonding with various materials. which can support a compact lightweight product design with higher yield.
Low Pressure Overmolding Electronic Designs
When talking about Low Pressure Overmolding System, its waterproof molding solution is used widely for electronic parts design in various industries, such as medical care, smart city, transportation ex: electric vehicles, 5 G applications, etc. All these solutions are energy saving and automated, for industry 4.0 lean production.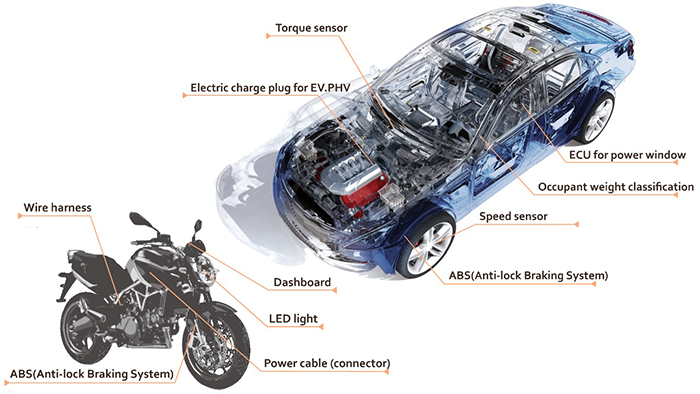 Low Pressure Molding Machines and Systems from King's
King's Solution
have been dedicated to injection molding solutions for almost 4 decades.We have the experience of making thousands of sets of customized injection molding machines with tooling, automation, and auxiliary systems as complete turn-key solutions. Our Mission is to deliver "Green solution" as the " Machine Soulmate" to our customers all over the world. Low pressure molding process is an innovative technology which is still developing in different applications, we believe our experience in engineering will support our customer to create the product in a faster, safer and greener way. For more information or to get started on your Low Pressure Molding Solution,
contact us
today.
If you want to know more about our other products, please check the link below.
Low Pressure Injection Molding Turnkey Solution
To keep updated about the latest news of King's Solution Machinery & Engineering, please follow us in our Social Media Channels :